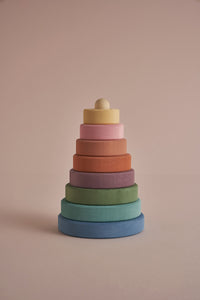 A classic donut stacking tower in a beautiful pastel earthy tone palette. The graduated stacking rings create a simple "puzzle" for toddlers and preschoolers, who learn spatial relationships and basic physics through stacking and ordering the pieces. They also make a beautiful display item on the nursery or bedroom shelf. 
Introduce basic concepts of physics (knock things down with force, things stay in place because of gravity), identify colors, place colors in spectrum order, group rings by size - the possibilities are endless.
Materials:

Lime wood, non-toxic water-based paints, lacquer-free. 

Raduga Grëz products are made from natural wood. Slight variations in terms of colour, grain, and markings are not defects but unique indications of natural wood.
Dimensions: estimated 17.5 cm x 12 cm 
Care: Do not submerge in water. Use damp cloth to wipe clean.

Designed, sawn and painted by

 

 

Raduga Grëz,

 a small family workshop in Russia.