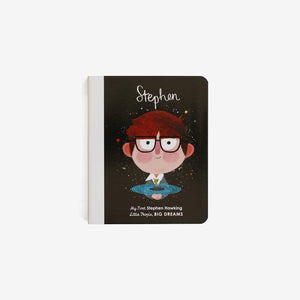 In the inspiring Little People, Big Dreams series, discover the lives of outstanding women from designers and artists to scientists and adventurers. All of them went on to achieve incredible things, yet all of them began life as a little child with a dream.  In this book from the critically acclaimed, multimillion-copy best-selling Little People, Big Dreams series, discover the life of Stephen Hawking, the genius physicist and author.
When Stephen Hawking was a little boy, he used to stare up at the stars and wonder about the universe. Although he was never top of the class, his curiosity took him to the best universities in England: Oxford and Cambridge. It also led him to make one of the biggest scientific discoveries of the 20th century: Hawking radiation. This moving book features stylish and quirky illustrations and extra facts at the back, including a biographical timeline with historical photos and a detailed profile of the brilliant physicist's life.
This empowering series in board book format for little hands is told in simpler sentences, perfect to read aloud to little dreamers. These books make the lives of these role models accessible for the youngest children, providing a powerful message to inspire the next generation of outstanding people who will change the world.
Format: Board book 
Dimensions: 24 pages; 12.7 cm x 15.6 cm x 1.4 cm
Author: Maria Isabel Sanchez Vergara
Illustrator: Amelia Flower